Screening in the Steel City
Screening of The Angel of Marye's Heights (November 27, 2010, Pittsburgh, PA)

[NOTE: 30-minute video to come.]
On November 27th, 2010 the 'northern' premiere of "The Angel of Marye's Heights" documentary took place at the prestigious CarnegieCarnegie Music Hall in Pittsburgh, PA. The screening and reception was hosted at the Andrew Carnegie Free Library and organized by Maggie Forbes, the landmark's executive director/campaign manager. Proceeds benefited the Capt. Thomas Espy Post No. 153 of the Grand Army of the Republic (GAR). The Espy Post is one of a half dozen most intact GAR posts in the country and features a tremendous collection of flags, books, prints and relics.
The film's producer, and native Pittsburgher, Michael Aubrecht represented Right Stripe Media and provided additional commentary on the ties between the Battle of Fredericksburg and Allegheny County's 123rd PA Volunteer Regiment who fought and fell on the field that witnessed Richard Kirkland's remarkable act. Press support for this particular event was exceptional with articles running in The Post Gazette, Green Tree Times, Signal Item, The Almanac and the ACFL&MH Newsletter. Close to 200 audience members and special guests attended the show.
A dessert reception followed the screening with free tours of the Espy Post. Attendees were registered to receive a special discount on the film's upcoming DVD. This event also resulted in tentative invitations to hold screenings of the film in Gettysburg and Williamsburg. Right Stripe Media is grateful for the warm reception that they received and will continue to support the GAR's mission of preserving and presenting the memory of Civil War veterans. The film will return in the spring as part of the CarnegieCarnegie's annual Civil War Weekend.
Reactions from audience members: "I thoroughly enjoyed it. The film is so well done. I especially loved the title track." – Beth Paull Davey; "Excellent venue and even better history lesson." – Jon Remington; "I was much impressed with the animation/graphics of the maps and the battlefield. Very well done and it added a great deal for those who might not be familiar with the lay of the land." – Edd Hale.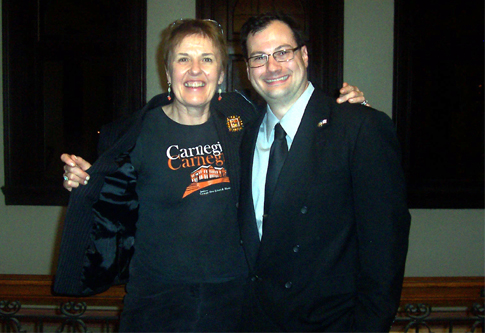 TAMH Producer Michael Aubrecht and event organizer Maggie Forbes,
Executive Director/Campaign Manager, Andrew Carnegie Free Library & Music Hall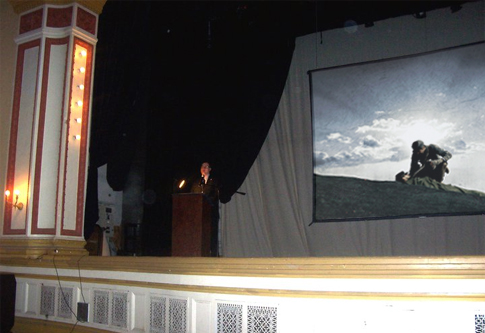 Following the screening Michael spoke about the ties between the Battle of Fredericksburg
and the 123rd PA Volunteer Regiment who had members at the Espy Post.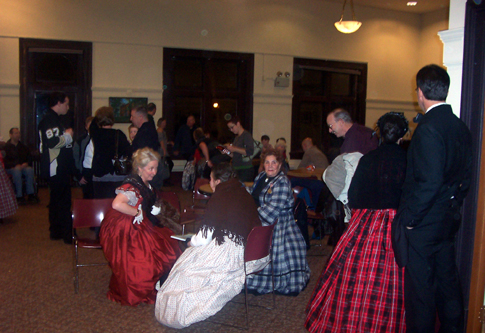 A dessert reception and tour followed the program. Some folks came in period dress
and Civil War re-enactors added a period-feeling to the festivities.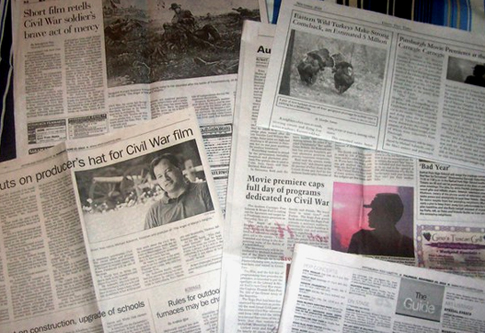 Local press support was outstanding and the film was featured in multiple newspapers.