Screening of The Angel of Marye's Heights (September 18, 2010, Liberty University, VA) 
On Sept. 18th the team from Right Stripe Media traveled to the beautiful campus of Liberty University to screen The Angel of Marye's Heights at the Arthur S. DeMoss Learning Center. Media support leading up to this event was extensive including interviews in the Liberty Champion and on WDBJ-7's 'Mornin' Show. Michael Aubrecht and Clint Ross taped a piece to be broadcast on Victory FM radio (Listen Here) and young Richard Warren was interviewed for the Lynchburg paper. Lodging for the team was provided at the magnificent Carter Glass Mansion courtesy of Dr. Kenny Rowlette.  
All proceeds from the evening were donated directly to the National Civil War Chaplains Museum, which is the only one of its kind. The museum's mission statement says: The mission of the National Civil War Chaplains Research Center and Museum Foundation is to educate the public about the role of chaplains, priests, and rabbis and religious organizations in the Civil War; to promote the continuing study of the many methods of dissemination of religious doctrine and moral teachings during the War; to preserve religious artifacts, and to present interpretive programs that show the influence of religion on the lives of political and military personnel. 
Liberty's own Victorian Society opened the evening with a period song and served refreshments to the crowd. Following the film, a panel discussion featuring principle members of the cast and crew was held in which they discussed how important it is to preserve and present history for the next generation (Video Excerpt Here). Michael Aubrecht, producer of the film, hosted the chat which included director/producer Clint Ross, art director/motion graphics designer Darrin Dick, executive producer and cast mom Kathleen Warren, and 12 year-old actor Richard Warren II. Each member brought their own unique perspective to the discussion which was well received by the audience. Historian and author Richard Williams, members of the area's Civil War Roundtable, Sons of Confederate Veterans, CW Chaplains Museum Board, and Liberty University's History Department were also in attendance. A casual meet and greet followed the panel. 
In addition to the show, exhibits featuring props from both the Angel movie and The Conspirator were on display along with a behind the scenes kiosk. Angel movie posters and Will White's CD featuring the film's theme song "Fredericksburg 1862" was sold. Dr. Kenny Rowlette, director of the National Civil War Chaplains Museum, was so pleased he has invited the team to participate in one of Liberty's future Civil War Seminars. Additional screenings in conjunction with the museum and college are being discussed.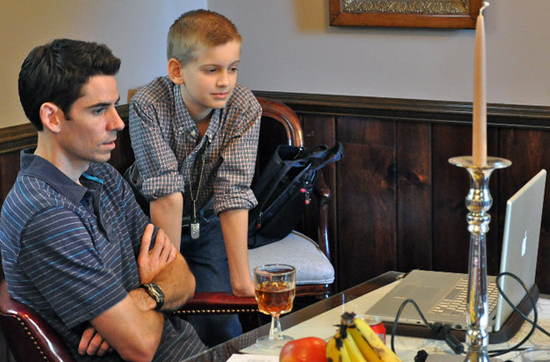 Clint Ross showing DVD bonus features to Richard Warren II at the Carter Glass Mansion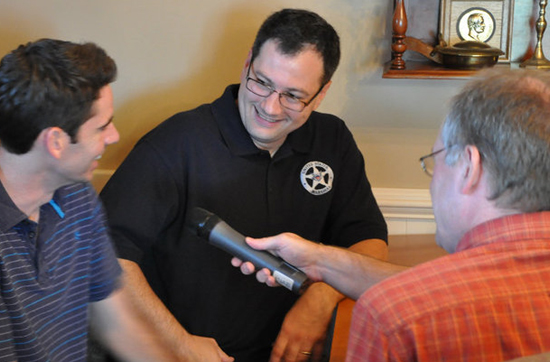 Clint and Michael being interviewed for broadcast by Mark Edwards of Victory-FM radio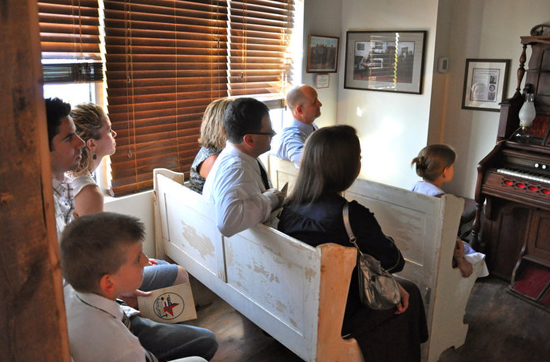 Dr. Kenny Rowlette providing a private tour of the National Civil War Chaplains Museum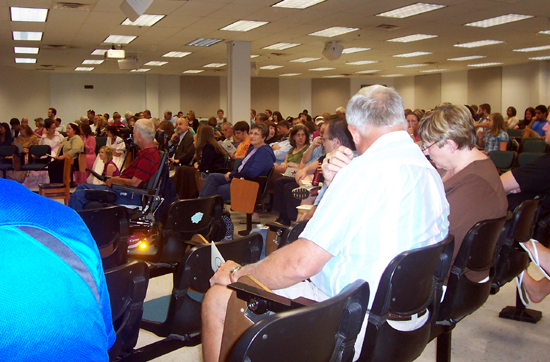 Close to 200 audience members filling the hall at the Arthur S. DeMoss Learning Center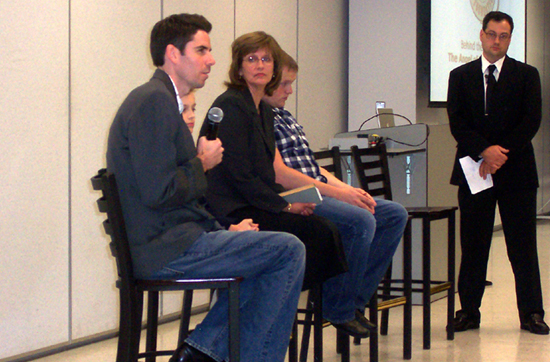 Members of the panel discuss how to improve and promote the education of history
Props from both The Angel of Marye's Heights and The Conspirator on display
(Photos courtesy of Kathleen Warren and Tracy Aubrecht)